Downtown Crew Socks by TCK
Discounts for multiple size and colors applied in cart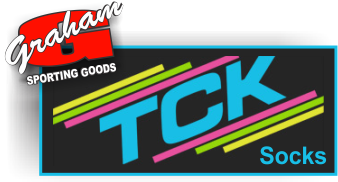 Downtown Crew Socks by TCK
SOCK DETAILS:
FEATURES
•moisture control
•odor control
•antimicrobial
•blister control
•arch compression
•breathable mesh
•ergonomic cushion
•double welt top
•heel/toe design
Colors
Black/White - Dark Green/White - Navy/White - Neon Orange/Black - Royal/White - Red/Black - Red/White
What the sock is made of
•77% Polypropylene
Polypropylene is a superior hydrophobic synthetic that boasts optimal temperature regulation and superior moisture management; lightweight (possessing the lowest specific gravity of any synthetic fiber), breathable, and able to retain its insulating properties even when wet; as an insulator, polypropylene retains warmth when it's cold and coolness when it's warm (i.e. much like insulation in a house); therefore, it can stand alone or work effectively as a base layer; on top of all this, polypro's abrasion test ratings are off the charts.
•17% Nylon
Nylon is awell-known for its versatility, aversion to abrasion, strength, and stretch; as a backing yarn, it provides added stretch and improves durability; quick-drying and easy to wash, nylon socks can be lightweight and sleek or heavyweight and highly elastic
•3% Elastic
Elastic is a rubber or spandex cores covered with durable nylon sheaths provide extreme stretch and recovery
•3% Lycra® spandex
Lycra® spandex is a duPont's brand of spandex fiber provides four-way stretch and recovery to enhance form fitting comfort
Size Chart:
Sock Technology
proDRI
carefully selected pro-grade fabrics known for their hydrophobic, wicking, and moisture management attributes; products with
TCK proDRI retain their insulating qualities, even when wet, and they keep your feet dry; a dry foot retains warmth in the winter
and coolness in the summer, and the absence of moisture next to the skin helps to minimize hot spots and blisters.
compression
compression zones in the ankle and/or arch of a sock provide a higher level of support, thereby reducing foot fatigue and
aiding circulation; these zones also help prevent slippage inside the shoe and insure a proper ft for the life of the sock.
blister control
hot spots and blisters can be debilitating, so we offer a healthy dose of preventative maintenance in and through unique
yarns that naturally reduce friction and wick away moisture, high-splice designs that provide extra shielding in problem areas,
and/or dependable liners that add a base layer of protection.
antimicrobial
built-in deodorant that effectively battles sock odor, even during periods of heavy perspiration; we achieve this by way of
high-grade yarns with embedded antimicrobial agents that act to inhibit the growth of bacteria and fungi, the typical culprits
behind unpleasant odor; and, you can count on this protection for the life of the sock.
Why TCK?
We at TCK are proud to have taken socks to the next level of customization. We strive every day to create high quality performance products and blend them with intricate designs. We are fortunate to have some of the most capable artists and technicians in the country.Their talent and experience combined with our unique group of machines has allowed us to do something that is unparalleled in the market.
What separates us from the competition?
• Needle Count: The higher the needle count, the higher the resolution. We at TCK run some of the highest needle counts in the athletic industry.
• Number of Colors: Our unique bank of machines allows us to run up to 6 colors in a logo.
• Better Coverage: Our machines have dedicated feeds that allow for better coverage in the logo area.
• Performance Yarns: Our performance line incorporates polypropylene and nylon yarns that offer moisture management, blister control, and antimicrobial characteristics. These yarns also provide superior durability.
• People: Again, we feel we have the most experienced and talented staff in the country and OUR people make all the difference.

About Graham Sporting Goods
We are new to servicing you online but we have been outfitting players, teams and businesses for over 30 years. We understand you might have some hesitation buying from a new website.
Let me help put you at ease.
This is what happens after you start checking out. Your credit card information is securely processed by PayPal. (you do not need a PayPal account) We choose to use PayPal as our processor so your information stays secure at all times. We never have access to your credit card information, it is processed by PayPal and then the funds are transferred to us. This is all done without leaving our website. The only personal information we receive is the Billing & Shipping Address, Phone Number and Email Address. This information is ONLY used to fulfill your order or contact you about your order.
We might be online but we are not automated. Once your order is placed it is then reviewed and fulfilled by Alex. Alex who designed this website is the 3rd generation to help with the family business. We take pride and care in every order that is placed with us. We want to bring that small town sporting goods experience online to you. If you have any questions call or email any of the Harrison's. Dean, Susan, Alex or Bradley. 336-852-2335. (Mon-Fri 9:00am -6:00pm EST, Sat 9:00am-5:00pm EST) SALES@GrahamSG.com.