OTX50 One-Touch Mid-Profile A-Flex Hat by Pacific Headwear
Profile/Material: Mid-Profile - High Tech dobby knit - 100% lightweight polyester
Crown:Seemless One-Touch construction - Structured Front - Two eyelets - A-Flex fit
Visor: Pre-Curved - 8 rows stitching - Black undervisor
Sizing: Adult A-Flex Sizing - MD (6 7/8 - 7 1/4) - LG (7 3/8 - 7 3/4)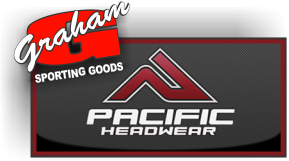 OTX50 One-Touch
Mid Profile A-Flex Hat
by Pacific Headwear
OTX One-Touch
Series
The OTX One-Touch line of lighweight TRN2 performance fabric hats provide unparalleled fit, breathability, and comfort to mazimize player performance. The combination of seamless construction and performance fabric delivers an on-field look honoring baseball tradition. Give players the edge they need with revoultion - OTX tradition and technology.
Introducing the OTX Series
- Traditional on field look with revolutionary comfort & Fit
- Seamless Technology provides a tailored fit off the rack
- Cool Lightweight breathable TRN2 Performance Fabric
- Woven 1-Panel Fabric
- High Tech woven TRN2 Performance Fabric
- Ultra Lighweight
- Breathable
- Durable
- Anti-microbial properties combats stains and odors
- 4-Way stretch for unparalleled on and off field comfort
- Puts the it in fit
OTX50 Available Colors:
Black - Black/Red - Charcoal - Charcoal/Black - Charcoal/Red - Columbia Blue - Dark Green - Gold - Maroon - Navy - Navy/Red - Orange - Purple - Red - Royal - Silver - Silver/Black - Silver/Navy - White
OTX50 Embroidery Options
OTX50 Embroidery Deal: If your looking to add embroidery we can help. We have a 3D Front Embroidery Deal Each Deal includes OTX50 with 3D custom embroidery front no set-up fees one price and Free Shipping. 12 Hat minimum on Embroidery Deals.
Cap Builder: Click Here and go to Pacific Headwear's Cap Builder on our website. Build the cap you like and follow the instructions to email us your design for pricing and to order. 12 hat minimum on all embroidery orders.
OTX50 Shipping
Orders placed before 1:00pm EST will ship same business day. Orders placed after this time will ship next business day. After your order is placed we process it with Pacific Headwear. We try to keep inventory up to date but if a hat is out of stock we will email you same business day to let you know. The email will include stock dates and options to help you fulfill your order. Tracking Numbers are emailed when hats shipped

About Graham Sporting Goods
We are new to servicing you online but we have been outfitting players, teams and businesses for over 30 years. We understand you might have some hesitation buying from a new website.
Let me help put you at ease.
This is what happens after you start checking out. Your credit card information is securely processed by PayPal. (you do not need a PayPal account) We choose to use PayPal as our processor so your information stays secure at all times. We never have access to your credit card information, it is processed by PayPal and then the funds are transferred to us. This is all done without leaving our website. The only personal information we receive is the Billing & Shipping Address, Phone Number and Email Address. This information is ONLY used to fulfill your order or contact you about your order.
We might be online but we are not automated. Once your order is placed it is then reviewed and fulfilled by Alex. Alex who designed this website is the 3rd generation to help with the family business. We take pride and care in every order that is placed with us. We want to bring that small town sporting goods experience online to you. If you have any questions call or email any of the Harrison's. Dean, Susan, Alex or Bradley. 336-852-2335. (Mon-Fri 9:00am -6:00pm EST, Sat 9:00am-5:00pm EST) Best way to reach Alex is email. ALEX@GrahamSG.com.